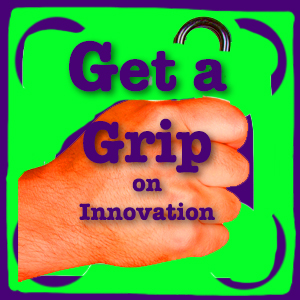 Get a Grip on Innovation — 10 Questions, 20 Minutes

Ten questions for you to focus on assessing the state of your organization's innovation program. Twenty minutes to learn something and take action steps.
If you think your current program is working, non-existent, or just a disaster — you will learn something by taking this quick survey.
Yes, there are other ways to assess innovation culture that are more thorough (such as Teresa Amabile Ph.D. "KEYS"). However, the purpose of these ten questions is to get you off the dime and into action around your innovation program/department. If these questions raise any red flags, you might need to go deeper, perhaps using a qualitative approach. But in the interest of quick action, let's get started, Now.
What did your organization innovate last year? Make a list.Partially done projects, that is, things you haven't put fully into play, but there is active development, a plan and a commitment to launch the project, do count.
What results has your organization achieved with its innovation program in the last few years? List your major accomplishments and categorize them as to type of innovation. So New Product, New Service, Improved Process, New Business, New Business Model — and any others.
What's your general sense of organizational attitude towards innovation? Write a once sentence answer. Generalize based on your feeling. I'm sure there could be an essay written on this question but, attempt to sum it up.
Were there any ideas or projects that seemed interesting but weren't done due to perceived risk? Make a list.
Were there ideas or projects that seemed interesting but weren't done due to lack of resources? Make a list. How was it pitched? Who and how were resources requested? Include also in this list things you couldn't do because you don't have the know how or technology — or are otherwise just "too hard."
Is there an individual or department in your organization who seems to block innovation at every turn? Write down who, and, why you think this is happening. One or two sentences. Try to be objective here, but don't obsess.
How do you feel about your organizations innovation prospects for 2017? Give five stars if you feel great about it, and less stars if you don't.
Are there innovation projects underway? Or scheduled for later this year? Make a list.
How many "cycles" of innovation does your organization conduct over the course of a year? Use last year as the indicator. By cycle I mean conceiving of a project to innovate, forming a team, creating something new or different, and putting the idea into a queue for actual implementation. Full implementation of a big idea can take years, I'm not looking for "fully implemented" I'm asking how many projects got initiated — even if there was a failure, a mediocre result, or was not fully put into play.
Has your innovation team been trained in some kind of framework? Has the team, or team leader, gotten facilitation and/or innovation project management training? On a five star scale, rate your team (not the organization as a whole) on their ability to conduct and manage innovation meetings and projects.
Based on these question answers you should have a holistic sense of your innovation program. Review the data the questions generated. If there is any murkiness, take that as an opportunity to improve and devise action steps. If you're not sure what remedies to put in place, well, get in touch!
Here's what the questions were assessing:
Questions 1 and 2 are the results picture. If you're not getting results, you're doing something wrong that needs to change. Not enough projects or not the right kind of projects probably.
Question 3 is a culture question. In your heart you know what's going on and you need to face and change a negative culture if you have one. How do you change culture. Projects.
Questions 4 and 5 are trying to identify bottlenecks and risk aversion in your culture and process. Great ideas are meaningless unless they are resourced and put into action. The answer here is to do more development to make ideas less risky, or, to simply take more calculated risk. Prototype, learn, adjust, implement!
Question 6 is trying to get to "what's stopping you." Sometimes that's a person or a group of people, and if you want to do better with innovation you'll need to strategize how to get around that block. This gets to team formation and getting alignment.
Question 7 is another culture question, similar to question 3. What's it's getting to is the sense of hope in the air. If there is not any hope, you'll be fighting uphill. Hope is created by small successes, so, if there's small hope, your first project(s) should be geared towards a quick win.
Questions 8 and 9 have to do with a belief I have about innovation, which is quite simple: it's about Projects. And a continuous cycle of projects. If you're not doing projects you're not doing innovation, it's just that simple.
Question 10 is obviously about if you've got the innovation tools in your toolbox to get innovation done. And that requires training. If you don't, this is an investment you need to make.
Was this helpful? If you don't know how to solve these problems, get in touch. If you have ideas on how to improve this back-of-the-envelope assessment. Kind regards and best of luck for 2017.