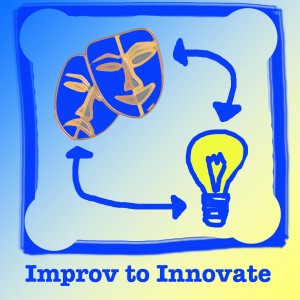 Improv and Innovation do mix — and it's not funny.
You don't have to be funny for Improv training to be useful in innovation. There are two things holding back more business people from pushing the Improv training button:
1.) They believe that Improv is difficult and that you need to have a funny bone, and,
2.) They believe that while Improv might be a good soft skill there is no direct and near term benefit to innovation (or other corporate goals).
Classic improvisation games can help solve serious business problems and you don't have to be particularly clever or funny. The benefits of using Improv — if done properly — are immediate. If you want the specifics of how, please have me in to do a workshop.
I trained with Players Workshop of Second City, and also with Improv Olymics (IO). I never had more fun in my life especially learning the long form game, the Harold.  I learned to allow myself to think spontaneously. It's the 80-20 rule with Improv. In a very short time nearly anyone can dramatically improve at spontaneous thinking.
Many innovation facilitators use Improv games as energizers in Idea Generation sessions. I go a step further than most — I use the games directly in the innovation process. I need to credit my Innovise Guys partner and Second City alum Doug Stevenson here — together we mapped out, experimented with, and developed the adapted games. Adapted Improv games have been part of my session designs ever since because they really work.
When you bring in an Improv group to do a workshop be sure to ask if they can show you how to adapt games to things like: challenge or insight exploration, idea generation, story or concept development, and even planning. If they don't have a ready answer on how to use games —  don't expect the team to be able to do much with the games beyond fun breaks and energizers. Fun breaks are only the tip of the iceberg in using improv for innovation.
Let's face it: it's hard to get people thinking differently. Improv games are magically good at getting people thinking differently. The games, to be useful, need to be focused, closely coached, and thoughtfully debriefed. Debriefing helps you "harvest" insights and ideas. Viola Spolin, who invented many of these games, designed them so actors could learn to be comfortable in their own skin, spontaneous, and how "not to act, but to be". When people are just being in the context of a game all sorts of useful things come out of their mouths.
You might think this requires experienced improvisers, but in reality, it does not.  The purpose of Improv for Innovation is fresh thinking, not comedy performance. With a bit of training anybody can improvise – and then use the output to innovate.  The intent with adapted Improv games in business is  to learn from the game.  Even very poorly done improv (from a performance perspective) can be a rich learning experience and a highly generative one. The key is training and facilitation to do the translation. 
Being creative — and making something up — is a necessary starting point for both improvisors — and innovators. Innovators do well to borrow the classic techniques and repurpose them.
And yes, they'll have fun doing it.
For more information on how you can use Improv to Innovate, see my write up here, or get in touch, gregg@greggfraley.com