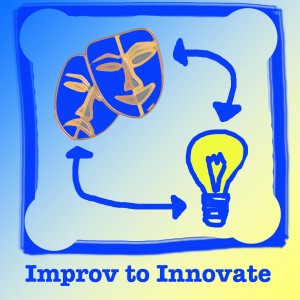 Improv to Innovate
This training workshop is the learning experience your people will talk about — and use — for years to come. Not only is it fun — it's a serious and effective business method. Unlike most corporate improv workshops, Improv to Innovate instructs participants in how to use improv techniques to solve complex business challenges — with a focus on innovation challenges. This course is not about being funny — it's about opening the door to creativity and using it to achieve business results.
Gregg Fraley exposes teams to the classic games and exercises used by improv artists.  It's not just fun and games — it's fun and games within a problem solving framework. Gregg developed the concept of Innovisation with his fellow improv and podcasting partner, Doug Stevenson (The Innovise Guys). Innovisation mashes-up the classic improv games with the various stages of structured problem solving (Osborn-Parnes CPS). Improv games are applied to one or more of these problem solving phases:
Exploration of challenges
Generating Ideas — alone or with groups
Developing and Refining Ideas, and,
Creating more exciting Action Plans, and Pitches
Benefits:
Instructs participants in how to use improv techniques to solve complex business problems
Exposure to the Creative Problem Solving (CPS)  framework
Participants learn how to access spontaneous thought and think more quickly on their feet
Participants discover their own strengths and weakness as creative people
Builds creative confidence for doing presentations, pitches, and facilitation
Teams learn how to better collaborate in all they do
Teams have a seriously fun and memorable experience that strengthens personal bonds
Gregg Fraley studied with Players Workshop of Second City, and Improv Olympics (IO) both in Chicago. He's performed as an improv player, a stand-up comedian, and a storyteller. He uses improv games and exercises in his strategy and idea generation sessions with corporate customers. He integrates these games and exercises directly into ideation — not just as energizers and for mood setting.
Optionally a second instructor and/or seasoned improv players can assist Gregg in course facilitation.
Participants need no experience in improv or public speaking. The course starts with basic non-threatening games and as confidence builds it progresses towards more advanced practice. Introverts are taken care of in this course — they will be challenged at times, but can opt out of performance at other times and be useful in active observational roles. The emphasis is not on getting laughs — that happens a lot — the emphasis is on using improv to stimulate creative thinking.
Timing: Half Day (3 hours) or Full Day (6 hours)