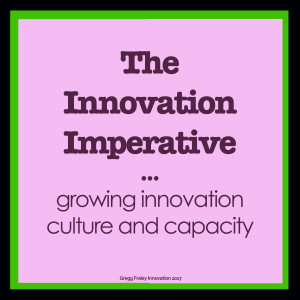 The Innovation Imperative… growing innovation culture and capacity
If you want an organization to survive, you must innovate. But innovation is more than survival, it's the heart beat of an organization. What you make, what you do, and how you do it — is the lifeblood of who you are.
Staying in business means reinventing as markets shift. In this inspirational speech Gregg Fraley answers the Why Innovation question, and informs as to what innovation means to you and your group. It advocates that innovation is an exciting part of everyone's job, not "extra work." The stories of great innovation moments, overcoming seemingly impossible obstacles, and inventive breakthroughs will leave audiences empowered to innovate. The content is about how the best organizations do it; mindset, frameworks, project selections, and how to create the elusive culture of innovation. Gregg talks specifics about:
How to quickly assess your current innovation culture and process
How to get, or provide, a specific mandate for innovation
Getting innovation teams and projects started and accelerated
The pro's and con's of deliberate processes and frameworks versus organic innovation
Power tools and techniques for identifying new markets (Design Thinking)
Developing ideas for products, services, and improvements (idea generation)
Pitching ideas, prototyping, and resourcing innovation
Making innovation a continuous effort
Audiences of this talk walk away with highly strategic approaches to innovation, as well as practical, tactical tools for implementing innovation projects. Gregg Fraley is a theorist, and a hands-on practitioner of innovation with a wealth of real world experiences to share.