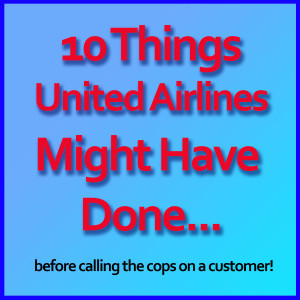 Improving Customer Service at United Airlines Requires a Paradigm Shift and Recognizing They Have a Problem

Creative Training Would Have Helped
10 Things United Airlines Might Have Done (see below)
Once again we have an incident of extremely poor customer service from a major airline. This time it's United (as it is frequently) who dragged a paying customer off a flight by force. A doctor on a deadline. Incidentally, an Asian man. The video is very hard to watch, it's sad, degrading, humiliating for the passenger, and an example of brutality visited upon an innocent and trusting consumer. The cops went too far as well, but United made the call and got them involved. United is responsible.
Other than beating him up or shooting the man it really couldn't be worse. The CEO made a quasi-apology today but even the apology was half-assed, Oscar Munoz said "I apologize for having to re-accomdate these passengers." That's a partial quote but he doesn't apologize directly to the man they mistreated. Wow. To make matters even worse, the reason they needed people to get off was so they could fly four United employees to a flight they were working. The incident, the background of the problem, and the half-baked apology signal a sick culture. United Airlines is a jaded, faded, uninspired, culture — that will die — unless they pull out of this lack-of-innovation, and lack-of-consumer-empathy death spiral.
Two Points to Make related to Creativity and Innovation:
1.) The first thing they need to do is admit they are sick. United is not going to remedy a deeply rooted problem without a massive perspective shift. They are so far away from their mission/vision of "fly the friendly skies" that band-aids (like "investigations") are not going to work. Without a big change in thinking customer service challenges are going to be like Wach-A-Mole. I'm speaking as someone who has flown over a million miles on United. I've seen it myself, and consistently; this whole attitude of the school mistress, or steward-as-drill-Sargent. You get on the plane and if you don't conform to every little rule they have (which are always changing, and are always changing to make life more miserable for you), you are a dunce until you comply. They treat you like a child, not like a valued customer. There are some lovely people who work for United, and, there are some, quite a few, who need an attitude adjustment. This is a cultural problem. The first thing they need to do is see this sickness as their truth; they need to admit they have a big problem. Then, they need to take action steps to change, see my next point. And how about a full throated, meaningful apology to that poor man?
2.) Culture change doesn't happen without a project. How United could change would be to organize an innovation project to improve that would involve every person in their organization. An assessment of their culture is not necessary in my mind, they are proving over and over their culture is anti-customer. Training in customer service and creative thinking would be at the heart of a program, but would also need to find breakthrough new ways to serve customers. It would need to involve C-suite employees — because that's where empowerment and better service start. That training and innovative change program would be enhanced with creative problem solving training. Also known as "CPS" having the tools to do effective brainstorming on the spot would have avoided this incident. The problem of finding ways to get people to give up a seat is a solvable one without bringing cops onto the plane. I can think of about 10 things they could have done first (see below). According to reports, they made two offers to passengers before the incident. With only a little more divergent thinking this incident would have never happened. United Airlines can't afford Not to do an innovation project.
Ten Other Things United Could Have Done To Get Passengers to Give Up Seats:
They could have offered more money. Just up the ante.
They could have offered a free trip.
They could have offered free trips domestically for three months.
They could have offered a free coach international flight.
They could have offered a free membership to the United Club Lounge.
They could have offered free baggage for the next three years.
They could have offered free drinks for a year, or two, or three.
A chance to ride in the cockpit for one flight.
A free upgrade from coach to first class on a future flight.
They could have created a package that combines several of the above ideas.
Bonus idea: How about asking customers what it would take?
I could think of 20 more without too much trouble. And one or more of them would have worked. United needs to focus itself and ask itself tough questions, and then involve all employees in developing creative, innovative answers.