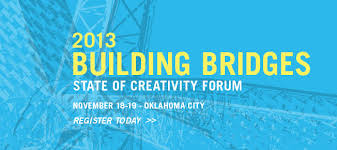 Briefly noted:
Registration is open for the fourth annual State of Creativity Forum. The main day is Tuesday, November 19th. It's in Oklahoma City -- but make no mistake — this is now an international event. This conference is 1000+ people from all parts of the country and around the world. It has a strong speakers list, a vibrant exhibit hall, and a palpable energy.
The theme this year is Building Bridges, and it is an apt one for a diverse state like Oklahoma. Also apt in that it's always a challenge to bridge the gap between creative people and productive innovation. This kind of conference is a great way to cross that chasm.
It's still a very affordable price — $195 if you register now. This is great value, an awful lot of creativity and innovation training, insight, and ideas for the money. If you are in the midwest, this is a fantastic bargain.
It's a one day conference, with pre and post conference offerings it's over three days (including my own post conference offering, Serious Business, applying creative thinking to solving complex business challenges"). Please register soon, these workshops fill up quickly.
Brad Moore, CEO of Hallmark Hall of Fame Productions, Nancy Cantor of Disney, and Peter Sims of Fuse Corps are the featured speakers. I also expect to see the Governor of Oklahoma, Mary Fallon, and former Olympian Bart Connor.  The Chicasaw Nation and the Choctaw Nation are also well represented (indeed, they are sponsors, supporters, and are involved in conference oversight). The breakout session speakers are an eclectic mix of business, arts, and education — there is good content here for nearly any interest.
So, I hope to see you in Oklahoma.