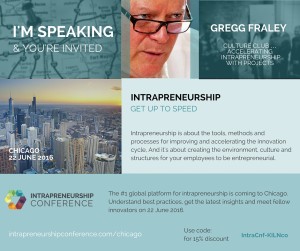 Authentically Different Conference
In recent years I've become a bit anti-conference. I still go to some but I find the formats tired. The formula favors big name authors and speakers who sometimes miss the mark. The agenda is so jammed you don't have time to talk to your peers. The social events are fun, but a bit… forced.
So, you may be surprised when I bend over backwards to promote Intrapreneurship Chicago 2016.  The event is going to be held at the TechNexus accelerator in the River North area. Chicago area innovators and intrapreneurs, take note. June 22!
This conference is authentically different. And highly useful if you are a real working Intrapreneur. 90% of the conference attendees will be real, honest-to-goodness, high level innovators at large organizations. The content is geared towards those with the challenging task of making innovation happen inside. Here's a sampling of the speakers:
I'm speaking too, I'm giving a TED length talk titled Culture Club — about changing innovation culture by doing projects. I think I have a unique perspective having been an intrapreneur (and entrepreneur) myself before going into my consultancy. I know I'll provide some fresh new ideas for how to make innovation happen.
This is a purposefully small conference. By keeping the numbers low, usually under 100 people, what you end up having is actual learning, meaningful conversations and networking, unexpected insights, and big ideas. The sessions are short and allow for a good deal of interaction. The small group workshops are dynamic hands-on working sessions.
It's a one day conference. If you're in the Chicago area you won't even need a hotel room. The price is very attractive, this is a genuine conference value.
Please give me a call if you have any questions about this event. I can forward you a more detailed agenda and brochure.  For a 15% discount use this code: IntraCnf-KILNco.
See you in June.